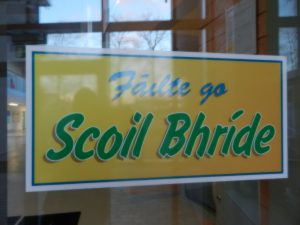 Scoil Bhríde Annual Admission Notice in respect of admissions to the 2021/2022 school year
Applications for Admission 2021
Application for Admission to JUNIOR INFANTS 2021
Application for Admission to ASD CLASS 2021
Application for Admission to ALL CLASSES except JUNIOR INFANTS and ASD
Hard copies of the above application forms can be obtained by EMAIL request to the school.
Scoil Bhríde Enrolment Please 2021/2022

The school will commence accepting applications for admission on
Thursday 14th January 2021
Closing date for receipt of applications is
Thursday 4th February 2021
Enrolment 2020/2021
Please print and fill in the relevant application form and return it to the school secretary. Hard copies of the application forms can also be obtained from the secretary at the school office.
The following two forms are for applications for Junior Infants for school year 2020/2021:
Junior Infants Application Form 2020
A.S.D. Class (Junior Infants) Application Form 2020
The following two forms are for applications for classes other than Junior Infants:
Senior Infants to 6th Class Application Form 2020
A.S.D. Class (Senior Infants to 6th Class) Application Form 2020
The school's enrolment policy can be viewed at the link below: