Active School Week in Scoil Bhríde takes place in the month of June. The activities change year to year but include a few regulars.
Wake Up Shake Up
Pupils, families and staff are invited into school early to take part in some simple exercises led by children in the school.
Sports Day
We aim to have our Sports Day on the Thursday of Active Week. We are very fortunate to have the use of the GAA pitches to host our Sports Day.
Student Takeover Day
The roles are reversed for this day! The teachers take a step back and the children choose activities to teach the younger children during Active Week.
Taster Sessions
Each year we invite clubs to the school to give taster sessions of their activity. We have been lucky to have activities such as badminton, tennis, rugby, kickboxing, ninjitsu, frisbee and gymnastics in the past.
Charity Run
We also hold an annual charity run on the Friday of Active Week each year. Each class runs laps of the yard and the total is added up to see what country we ran to as a school. Last year we ran all the way to Germany!! Children can make donations on the day to our chosen charity.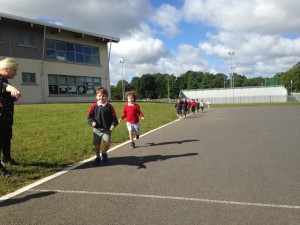 Teachers v Students
Every year we try to incorporate some fun activities with the teachers and the students in 6th class. Recently this has taken the form of a Volleyball match to finish off Active Week on Friday on a high.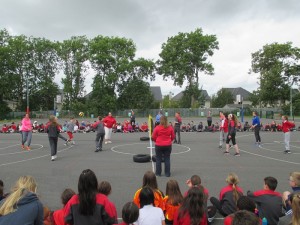 FUN Event
This year we were very grateful to the PTA for organising and funding of our FUN Event this year. The children had great FUN on the three bouncing castles during Active Week this year.
Active Week Changes
Active Week bring with it lots of fun and busy days so changes to the normal routine can be expected! Children can wear their tracksuits for all of Active Week, active homework will be given each night and regular lesson will have an active twist to them. Have a look below to see some creative (and activity inspired) art!
New Activity 2019
This year we were very lucky to have had Liz Burke, a parent in our school, in to teach us some yoga. She also got us pumped up early in the morning for our Wake Up Shake Up leading is in an aerobics session before school.
Back to Active Schools