Assembly and Conker Quest!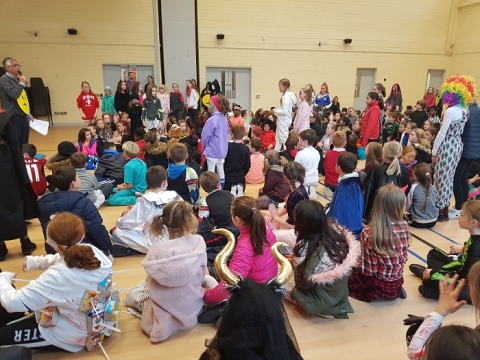 Today we had our October assembly. Entertainment was provided by Anastasia and Aoibhinn who did a contortionist routine. It was simply amazing! Múinteoir Cara's class also performed a song for us with some wonderful harmonies.
Our girls' and boys' football teams also received a special congratulations. The boys won their final in Moorefield recently and the girls were finalists and were unlucky not to win.
Recently, two children from Múinteoir Ailish's 4th Class came up with an idea for a fundraiser- the Conker Quest. They collected a large amount and conkers and filled a box with them. Children from 1st to 6th Classes then had a chance to guess the number of conkers in the box. The winner was announced at the assembly today- Faryn Mills from Múinteoir Amy's class. Well done Faryn! The actual number of conkers in the box was 1,307. Faryn guessed 1,322, only 15 away! She received her prize- a Smyth's voucher- at assembly.* The event raised €230. Many thanks to Lexie and Emily and all who helped with the fundraiser.
*Although it may look like Faryn has had an unfortunately accident involving a zipper, we are glad to report that she hasn't. It happens to be Halloween Dress-Up day today!
Last but not least, today was Múinteoir Mary's last day as deputy principal of Scoil Bhríde. She made a wonderful speech for all the school at assembly and was presented with cards which were signed by all the children. We hope you enjoy your retirement Múinteoir Mary and we're going to miss you in Scoil Bhríde! Call back to visit us soon!